Music Maestros!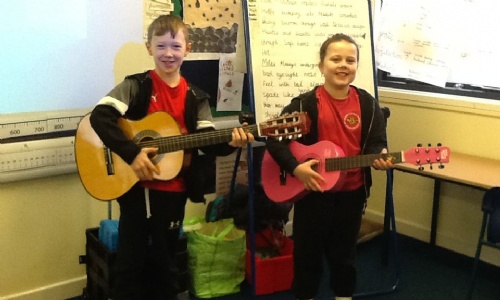 Fletcher and Isabelle are two of our budding Guitarists, who have lessons with Mr Ashford from Shropshire Music Service every Thursday morning.
Other pupils are learning different instruments, including Flute or Keyboard with Mrs Kirkland. Did you know we also have our own Drum Kit, and professional drummer Mr Banks visits for lessons on Tuesdays. Classes in KS2 have also been learning Samba drumming with our Music teacher Mrs Hughes.
Learning to play a musical instrument is a great hobby, and all music pupils can take part in weekend workshops and everything from rock bands, folk orchestras and choirs at the Music Service.
What instrument would you like to play? Have a look at the Shropshire Music Service website for everything on offer! https://www.shropshiremusicservice.org.uk/